Ready to start?
Live the rewarding and enriching experience to create, collaborate,
share and publish your multimedia content.
Our products
A creative and audiovisual ecosystem based on the e-portfolio,
which accompanies the student from Primary to University,
offering new communication possibilities and collaborative tools.
Our Community say
Marcia Banks
Vice Principal at ECOLINT - International School of Geneva. Founders of International Baccalaureate.

As a teacher, and as Vice Principal, one of my priorities and obligations is to identify and create a significant environment focusing on the learning process. I immensely enjoy working on MyDocumenta: it promotes student creativity, and encourages critical thinking, problem solving, and process-focused learning.
Lis Costa
Education and Audiovisual Communications lecturer at the University of Barcelona.

Since we began working on the digital portfolio with mydocumenta, the students have become proactive. MyDocumenta has helped us to make a significant qualitative leap in the use of the digital portfolio. It liberally allows students to work multimodally, collaborate on projects, and become aware of their own learning process.
Meritxell Formiga
Science Teacher, Tordera High School, Barcelona.

The use of MyDocumenta centres around the work of the student, in allowing students to produce their own content. While Moodle type platforms and other LMS are very useful for teachers when it comes to classroom management and curriculum design, MyDocumenta helps the students to work with multimedia independently, and in collaboration, within a fully digital environment.
mydocumenta app: Projects Gallery
Primary and Secondary School:
|
|
|
|
|
|
|
|
|
|
|
|
|
|
|
|



Universities and General Scope:
|
|
|
|
|
|
Mestres d'art. Inici
Mestres d'art és un projecte que inclou un programa educatiu i un projecte expositiu. Artistes de diferents disciplines han treballat amb mestres i estudiants en la realització de projectes artístics que al mateix temps han produït situacions d'aprenentatge. Un projecte de KTON Y CIA.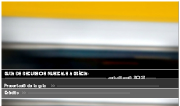 Guia de recursos musicals a Gràcia. Inici
La guia de recursos musicals a Gràcia és una eina prevista en la redacció del Pla Estratègic de la Música de Gràcia i que té per objectiu l'Estudi i la divulgació del conjunt d'infrastructures i recursos relacionats amb la música, tant públiques com privades, per a la seva optimització i la visualització, facilitant així l'accés, la coordinació i fomentant la diversitat musical.